"Responding to Chaos"
Rackham Exhibition
Art as Action, Engagement, and Revelation
March 2 – May 5, 2015
4th floor, Rackham Graduate School
University of Michigan
Monday - Friday, 8am - 9pm
The "Responding to Chaos" exhibit seeks to share with viewers finished artworks that contain a story about the artist's use of the creative process as a tool for entering into and unfolding their responses to the experience of chaos.
The theme we are exploring for the Winter 2015 semester is artistic responses to the observation of or the experience of chaos. Think back to a time when you were troubled, saddened or confused about a situation in the world, perhaps a chaotic event near home or far away. Recall a time when you experienced personal entropy, turmoil or sadness in your life. Maybe you were passing through a stage of development, or experiencing discord within family or among friends. How did the artistic process assist you? Think about an artwork you attempted to create, got stuck midway or neared the end and could not finish the piece no matter how hard you tried. By staying with the process, how was the solution revealed to you? What did it teach you about your skill set, materials, approach or personal psychology?
For more information about these artists, their artwork and acquiring a piece, please contact:
River Gallery + Exhibits
734.433.0826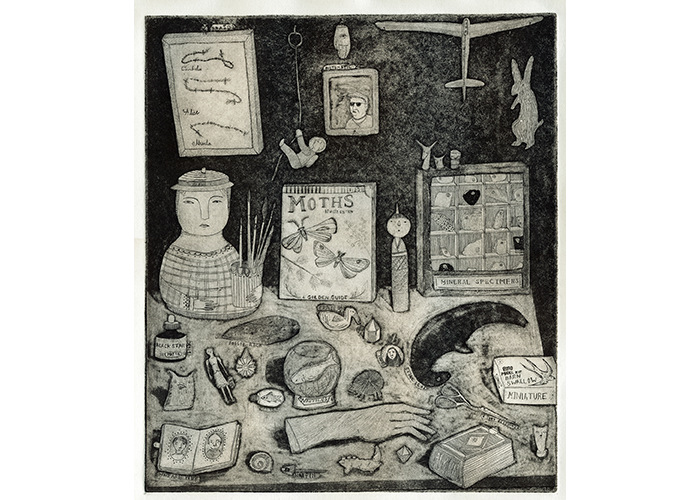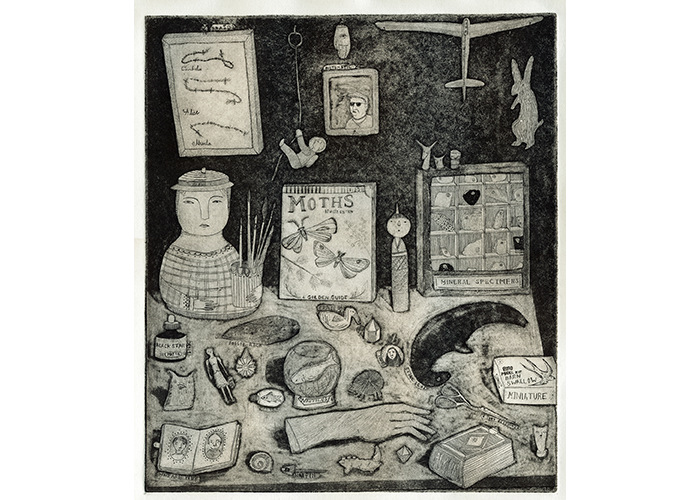 Lydia Aikenhead – Still-life | intaglio print | 10″ x 12″ | $250
I am a collector and I treasure all things small, unnecessary and extraneous. While some objects of consumption serve their function by preserving memory or making palpable vague thoughts, they can also consume me at times by invading tabletops, shelves and drawers. This artwork is my attempt to instill order within this swarm of objects. I calm the chaos by replacing the objects themselves with a still and single image.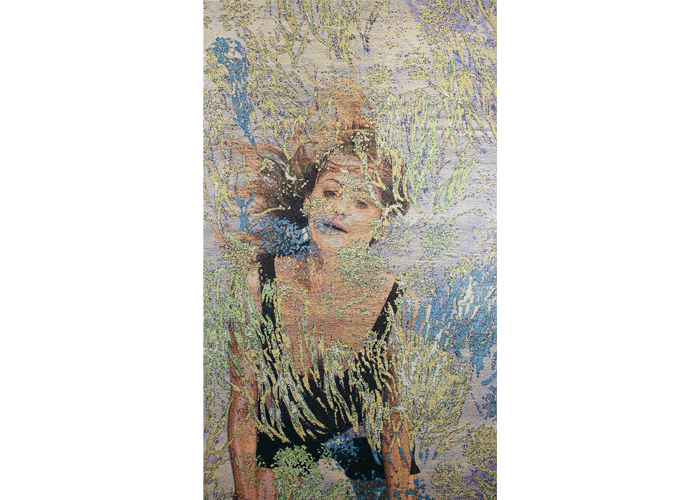 Cathryn Amidei – Emancipator | handwoven (jacquard) cotton, embroidery thread | 64″ x 41″ | $6,000
Each piece in my series Vis Viva ("living force") integrates dynamically patterned elements with active, young female figures visualizing energetic life forces. As in many historical tapestries, the figures are epically scaled and specific as well as symbolic. I refer to these figures as "Superheroes". They have the specific trajectory of an adolescent female and the symbolic trajectory of a being imbued with special powers.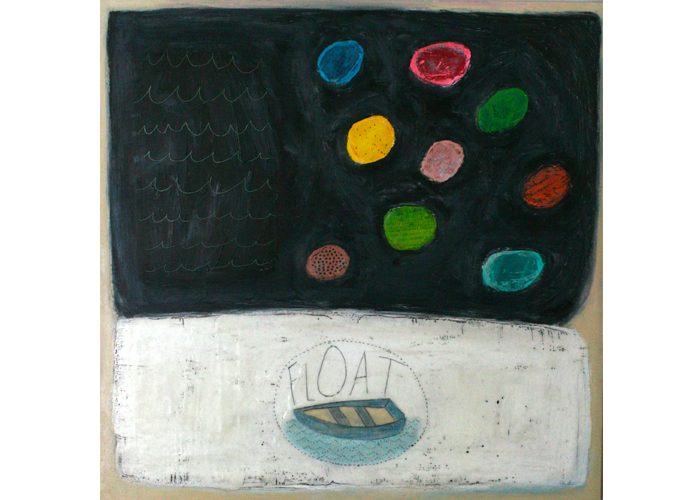 Beth Billups – Float | encaustic, mixed media | 21″ x 21″ | $600
Packing and moving home seven times within the last 16 years with three children and pets in tow, brought chaos to our lives in many forms. This piece is a reflection on the lessons learned under many moons about managing the ebb and flow of change and the power of being still.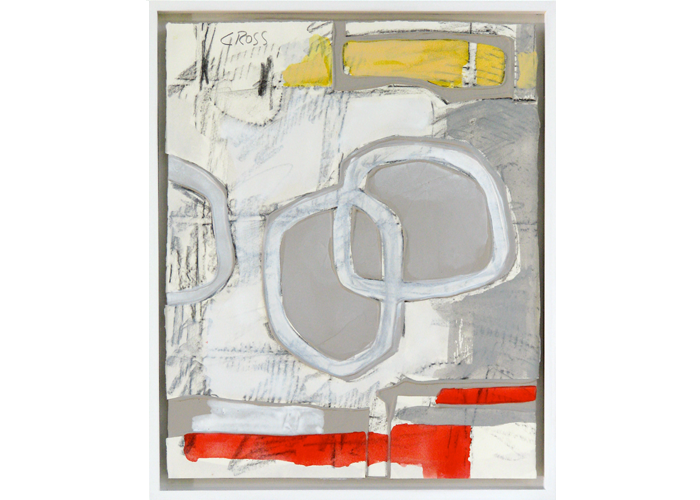 Bob Cross – White Gold II | acrylic, charcoal, graphite, pasted paper on panel | 15.75″ x 12.5″ | $600
A portion of my day job involves the restoration of damaged sculpture and/or ornate architectural elements. There is always a point in this process where the parts are reassembled with fault lines still showing and voids that are not yet filled. "White Gold II", is a part of a series which captures that fractured balance between disarray and unity, and represents that sublime moment of chaos.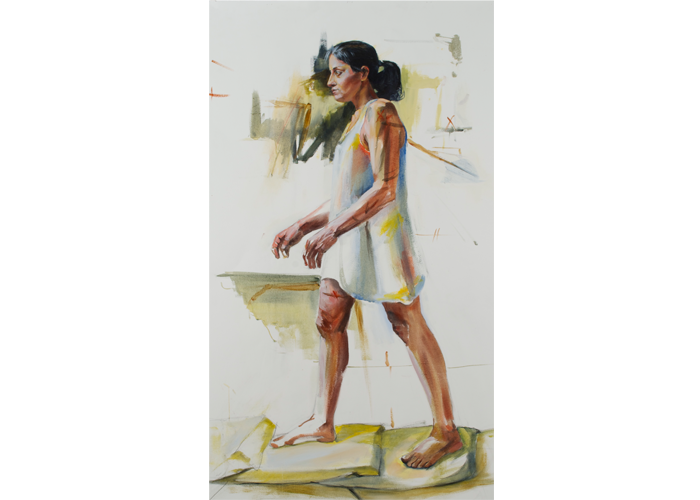 Margaret Davis – Sandbag Study I | oil on paper | 44″ x 24″ | $1,400
The figures I imagine and develop are involved in the process of change. I am interested in both the large scope of change, as in evolution, and the specific individual experience of change. In the recent past figures live among scaffolding, implying restoration and repair. Currently, I am developing a body of work with figures among sandbags. Where the scaffolding is post events the sandbags are pre-event.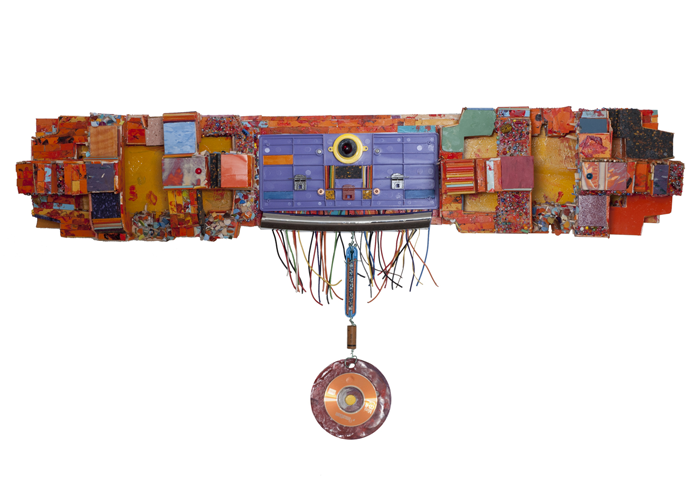 Nanci Le Bret Einstein – She Deserved A Medal | wall-mounted sculpture, mixed media | 38″ x 19.5″ x 7.5″ | $2,300
She Deserved a Medal" was a piece that came into being prior to, during and after my mother's illness. She fought to survive as I struggled to comprehend medical protocols and physicians. The process was tenuous and draining for us both. Making art calms me. Attention to the details and decision making in the creative process allows me to forget the chaos. In the end, my mother, the artwork and I achieved victory!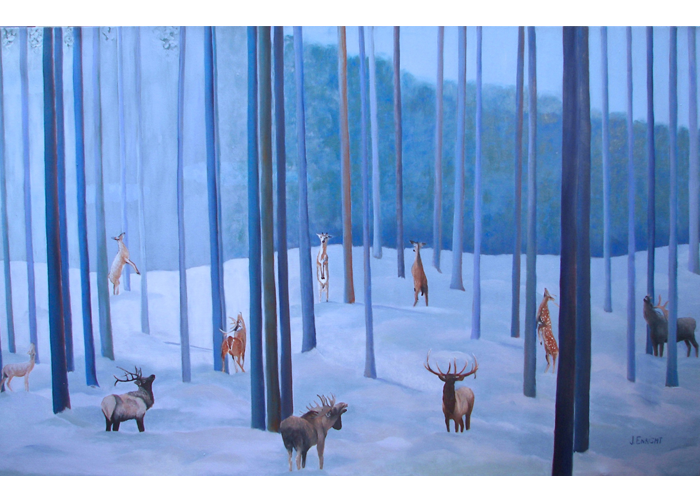 Judy Enright – Longing | oil on canvas | 40″ x 56″ | $1,500
This painting represents the deep cold of winter that at times moves us inward and causes us to reflect on the chaos of our inner life. Deer know the secret of self renewal. They remind us of survival when we feel caught in the rut of this annual winter practice.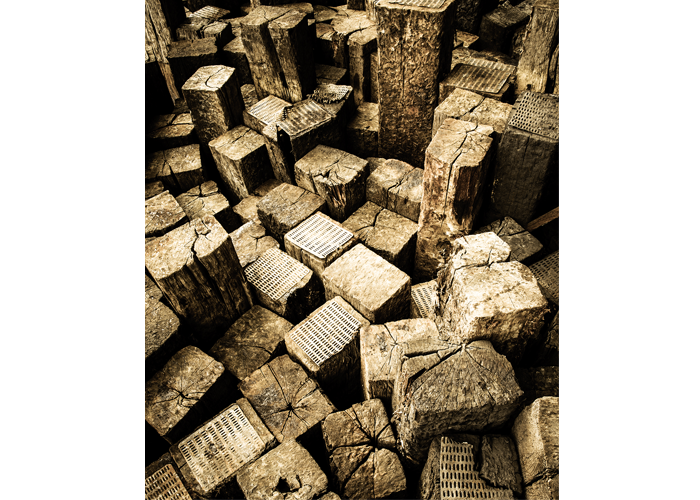 Bill Jackson – Panic Attack | photograph | 40″ x 35″ | $1,250
Downtown buildings, once majestic and sovereign, but now burned and scarred huddle together for protection. This frightening image revisited me in my dreams for many decades. In part it comes from a young child's worry of the skyscraper's falling and scrunching together. It also comes from the dread of nuclear war that I felt so strongly in the Sixties.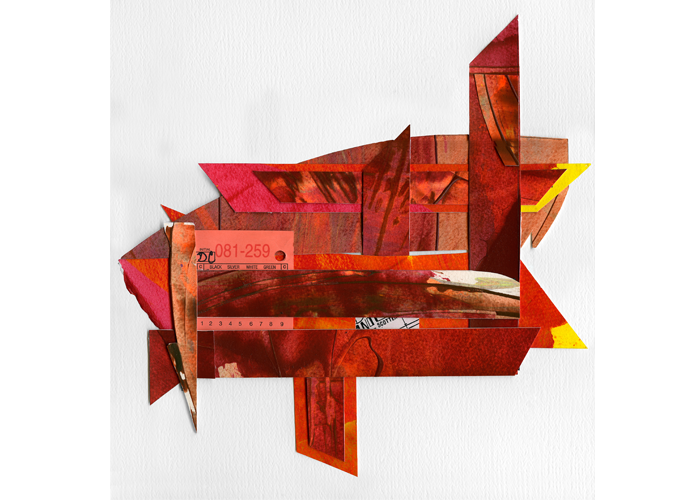 Lester Johnson – D&C | mixed media collage | 17″ x 17″ | $850
Music has always been my source of inspiration. The artwork "D&C" began with several irregular pieces of painted material of various sizes and shapes. The "D&C" compositional collage was created while listening to the music "On my Way to Harlem" by Gregory Porter. The music gave me inspiration and direction during the creative process. Each narrative layer of information is carefully selected with references to "Time and Place".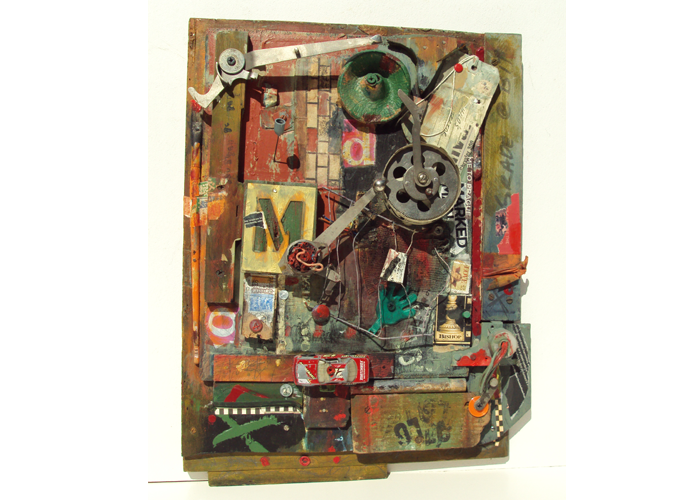 Joan Painter Jones – Chance Takers | mixed media on wood | 18.5″ x 14″ x 2″ | $600
Anyone visiting my studio loft in the past ten years would agree that it is a chaotic scene. I have collected so many found materials over the years, that there are piles all over the space and my shelves are full. Whenever I am ready to begin creative work, I must first clear an area just big enough to start. Whenever I go up to the loft in my barn to make art, I am truly attempting to bring order, one artwork at a time, out of a field chaos.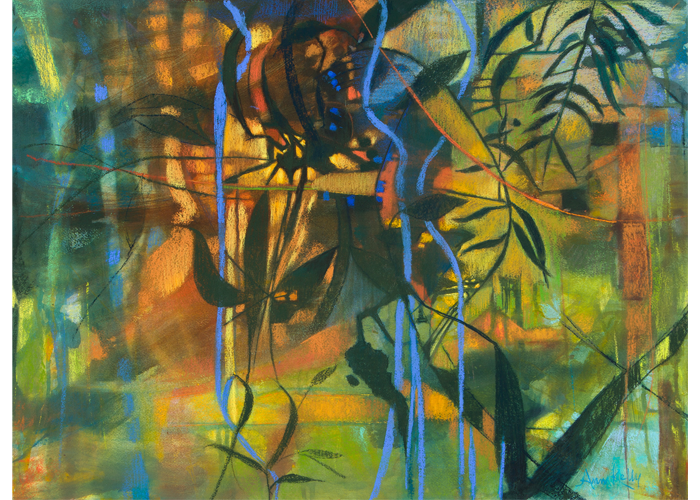 Ann Kelly – Lantern Light | mixed media | 37″ x 29″ | $1,200
This art began in chaos. It morphed through many stages of watercolor, a soaking in the shower, and a once-over with the hose nozzle in the intense July heat. It then spent time drying in the sun to a ghost image before the application of layers of soft pastel. From that chaos, these silhouetted forms emerged. By bravely entering into the world of abstraction, I eventually found resolution and satisfaction.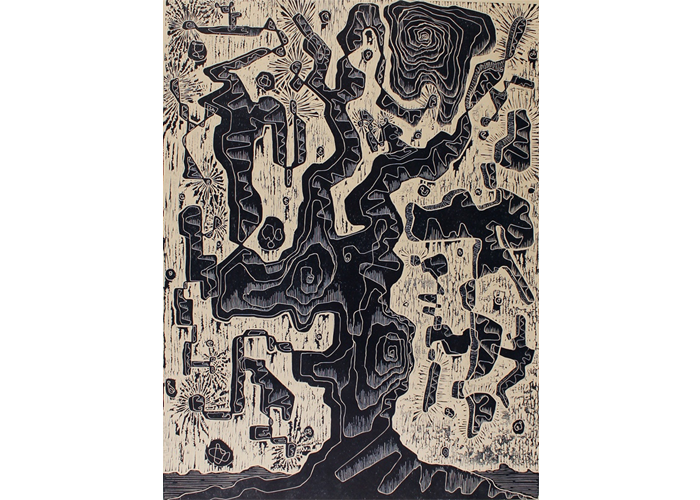 Joshua Kochis – Tree of Life, 2014 | woodcut print on japanese okawara | 32″ x 42″ | $700
In a dream I see my hand. It begins to grow; my wrist thickens and knots and my fingers twist upward, tapering out to veiny twigs. This Tree, which used to be my hand, extends into a third dimension called land. Crawly things called people fall in love and multiply. Suddenly, my hand shakes from the bottom up, casting the small people and land into the cosmos. "What chaos", I think, if this was how life behaved.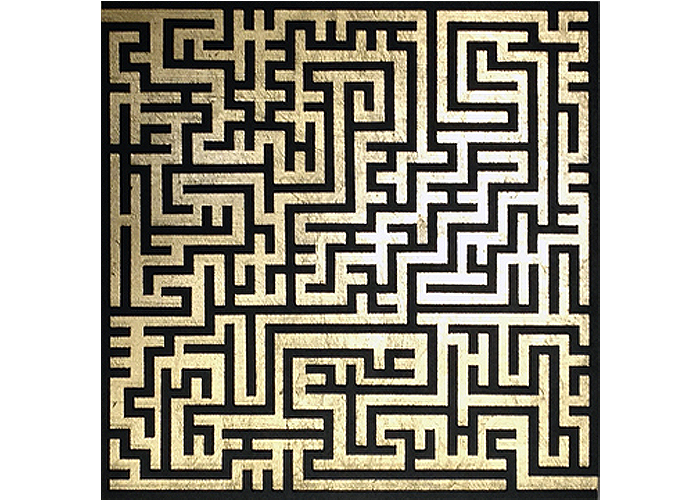 Natasha Kohli – Gold Would | acrylic and gold leaf on wood | 12″ x 12″ | $475
Prior to becoming a full time artist, emotional chaos was a familiar experience. The world and my life didn't make sense, I didn't seem to "fit." Every day I felt I was repeating a familiar pattern. I often felt stuck. The "Would" series consists of mazes that offer no traditional solutions. In order to exit one must go over or around, seeking alternatives to traditional, familiar paths.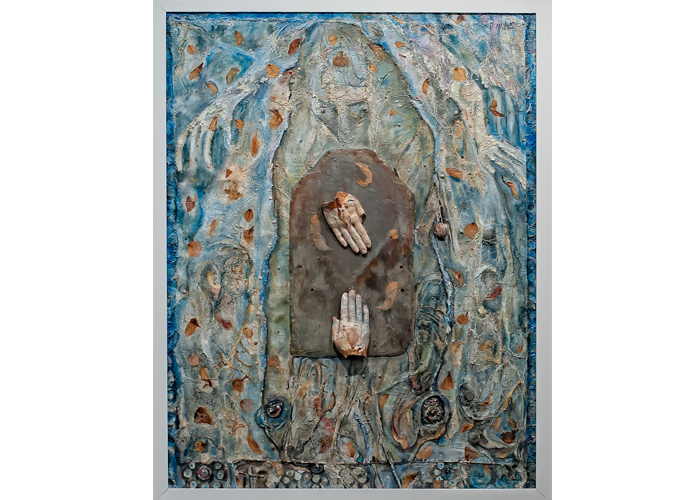 Diane Marie Kramer – Detour | mixed media | 48″ x 40″ | $7,800
This work was composed as I was losing my father to a brutal battle of blood cancer. I spent each day for many years by his side. I massaged his feet and witnessed his pain as he worked with his dying process. When I felt his pulse slow down and then stop completely, I felt a presence of Spirit in the room. In making this art I honored the loss of my father and personal losses as well. The work is etched in loss, yet embraces new hope and discovery.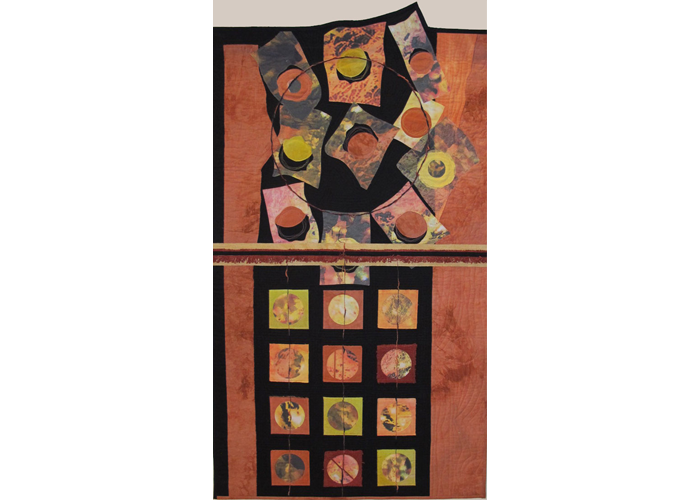 Sandra Kunkle – Shall I Not at Least Set my Things in Order? | fiber | 57″ x 32″ | $700
I was born into and then married out of my childhood home. Over the course of my marriage we moved into and out of 14 homes, across multiple US States and Canada. When I moved into my current home, I said "this is the last time!" Two years later I created this fiber art in memory to those cartons, packed and unpacked so many times, spreading and spilling everywhere, until one-by-one out of the chaos order was restored.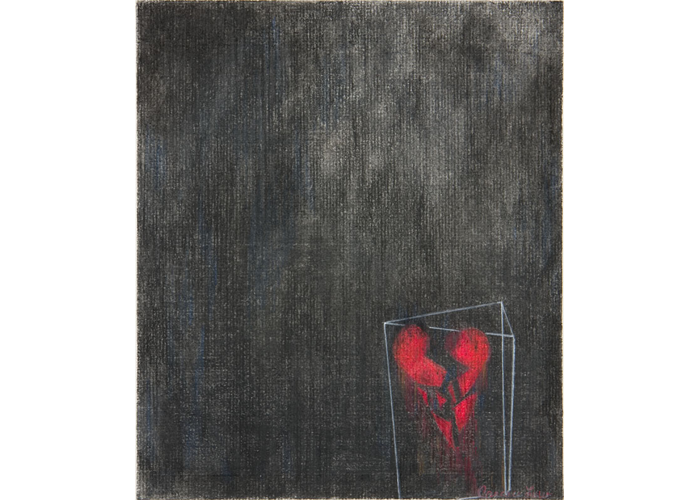 Candace Law – Night of the Heart II | charcoal, colored pencil | 18″ x 16″ | $300
Much of my art is a reaction to and an interior exploration of events in and surrounding my life. "Night of the Heart II" interprets an event that occurred in my church a number of years ago. Change was beginning to happen which then erupted into a schism which eventually separated the congregation, and in the process broke many hearts.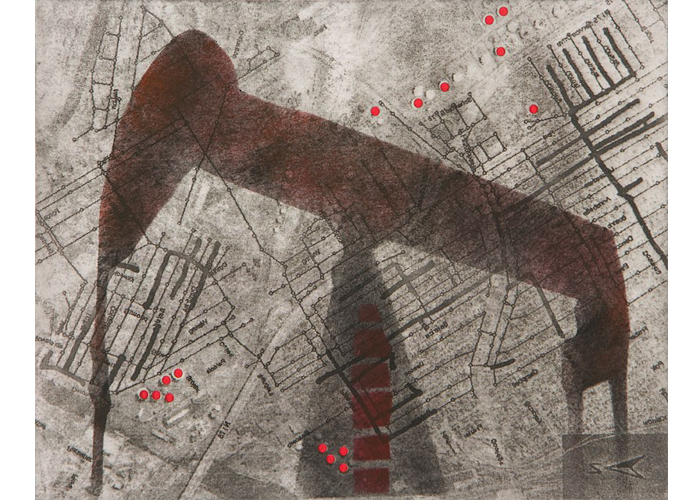 Rosemary Lee – To The Last Drop | etching with pochoir | 15″ x 17″ | $300
This is a city map with an ominous shadow of an oil derrick looming over it. We are determined to suck up every drop of gas and oil that the planet contains. Then we'll burn it all until we can no longer breathe. This is an attempt to use art in order to express my dismay at this prospect. Although I have no solution, I hope we humans will find one.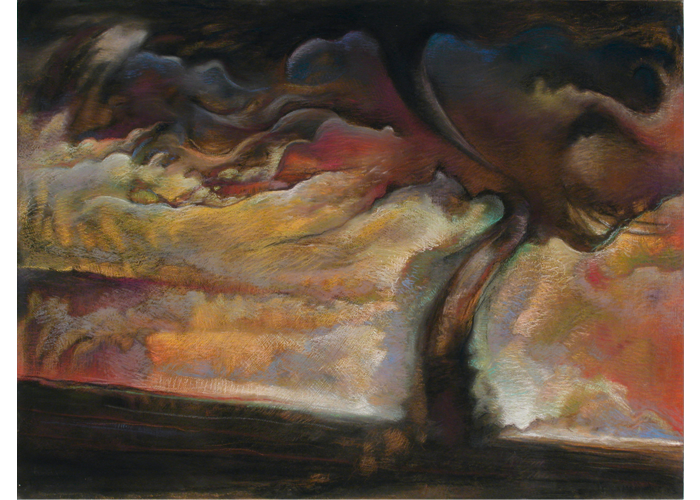 Felicia Macheske – Tornado | soft pastel | 26″ x 32″ | $900
At the time this piece was created, I was exploring storms as images. There is a great deal of abstraction and invention that can happen when making an image like this. I enjoyed playing with the sense of energy and the contrast of light and color within this piece. Looking back, it seems this was foreshadowing the chaos of the mega storms we have been witnessing today.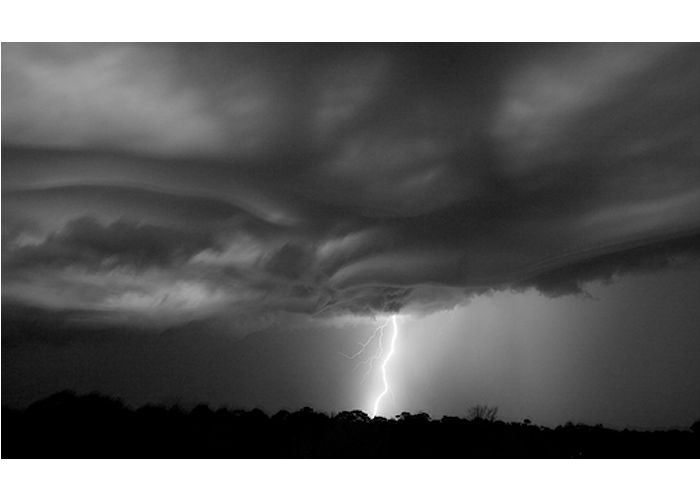 Steve McMahon – Summer Lightning Strike | photography, archival digital print | 22″ x 32″ | $1,250
An unpredictable lightning strike in a summer storm is a chaotic fraction of time that reveals beauty.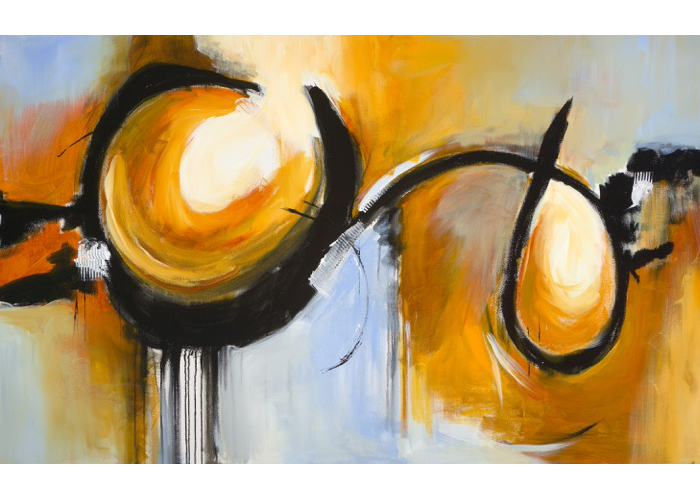 Bern Merlo – Sweetest Day | acrylic | 36″ x 60″ | NFS
Always wanting to better my craft, I signed up for an abstract class at a prestigious institution. After the first day, it was clear there was no direction. After several classes, I stopped going. I did not sign up for this kind of class! I was angry, upset and out a considerable amount of money. Figuring I could learn from my own inner core, I painted this picture at home. The chaos was gone, and I was calm.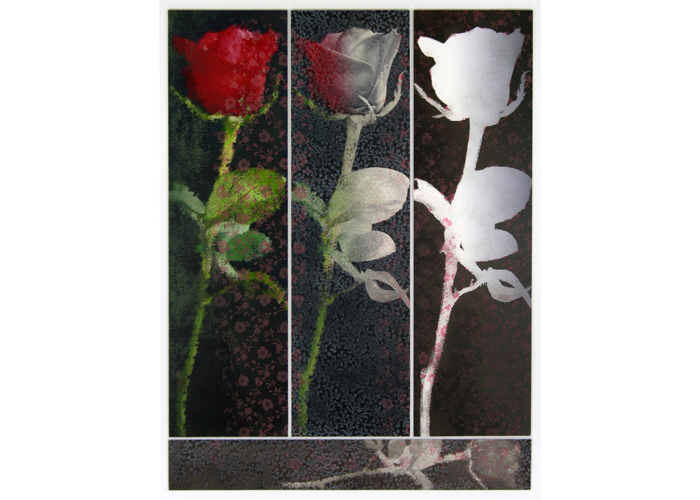 Vickie Michalak – Alzheimers Dementia | digital collage, screen print, mixed media | 15″ x 22.5″ | $800
This piece is a reflection of the last 10 years observing my husband's ongoing struggle with dementia. The rose at the very bottom represents his old memories from childhood that keep popping up, while the sequence of roses across the top represents all of those more current memories and abilities he has lost.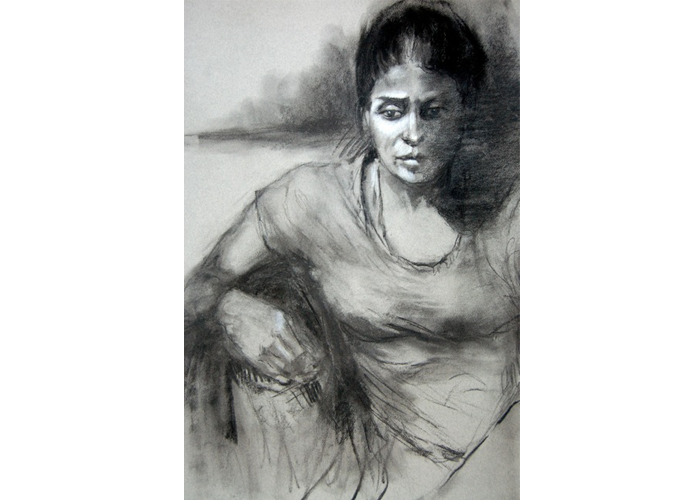 Barbara Eko Murphy – Thinking Out Loud | charcoal on mi-teintes drawing paper | 24″ x 32″ | $750
As I drew this model, she looked troubled to me. I couldn't help but wonder…did she have relationship problems? Was someone she loved hurting or in trouble? Did she have pressing tasks to accomplish or deadlines to meet? What was her personal "chaos"?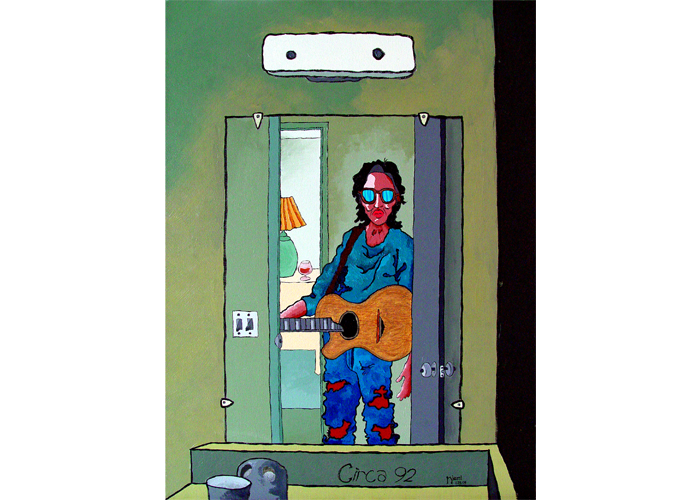 James Niemi – Circa '92 | oil on canvas | 24″ x 18″ | $700
In the middle of a second divorce, living in a lousy apartment and having to pay the mortgage on a house I was forced to exit, I found myself missing my kids and torn between a day job I was deep into hating and the natural artist and musician I have always been. I recently brought out a canvas sketch I did during that time that was left unpainted, until years later when I could finally deal with it. The lack of strings on the guitar represents all that was missing and wrong about my life.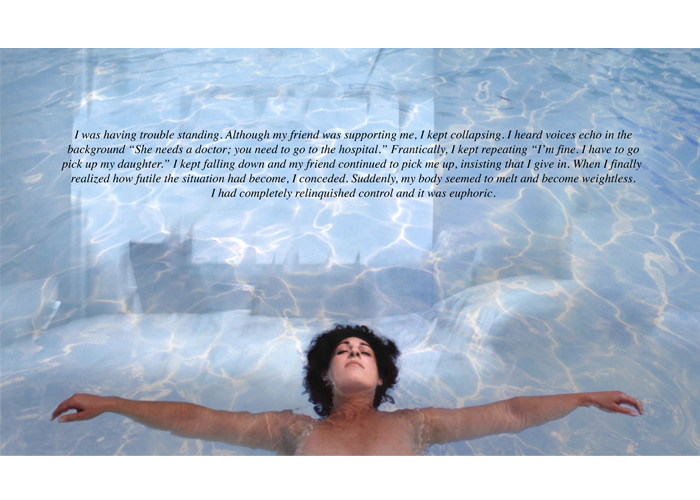 Deborah Orloff – Acquiescent Dream | inkjet print | 29″ x 38″ | $900
I was having trouble standing. Although my friend was supporting me, I kept collapsing. I heard voices echo in the background "She needs a doctor; you need to go to a hospital." Frantically, I kept repeating "I'm fine. I have to go pick up my daughter." I kept falling down and my friend continued to pick me up, insisting that I give in. When I finally realized how futile the situation had become, I conceded. Suddenly, my body seemed to melt and became weightless. I had completely relinquished control and it was euphoric.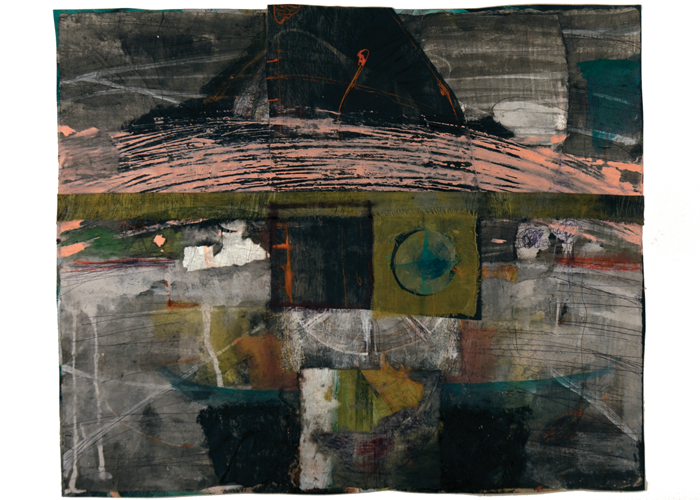 Nicole Pangas – Surge | mixed media collage | 17″ x 20″ | $600
I had my first son just two months before 9/11 hit and my second son in the year Iraq was invaded. It was a gloomy and dark time to be a young mother, with the chaos of death and war so present. I turned to making collages. The repetitive tasks of painting, cutting, layering and ripping proved useful in processing events. Pieces went from very large to small complicated collages; distilled and concentrated.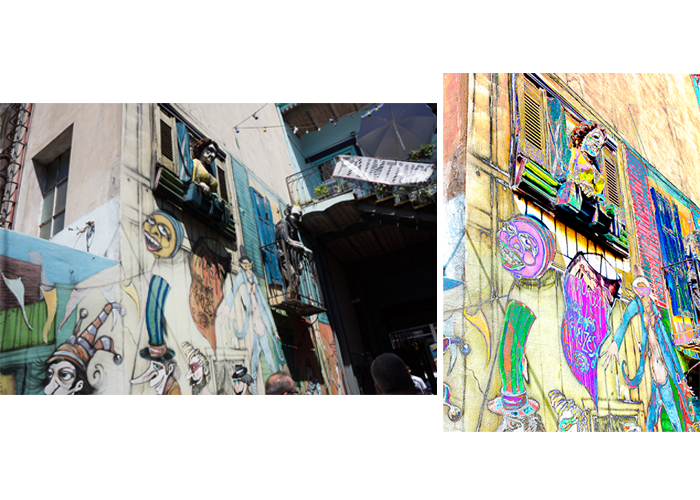 David Patria – Original Nightmare Buenos Aires | digital photograph | 16″ x 20″ | $200 (left)
David Patria – Nightmare Buenos Aires | altered digital photograph | 22″ x 16″ | $200 (right)
The year 2014 was a tough one for me. While traveling, I endured a series of medical conditions, some minor, some severe. During my stay in the hospital I spent time thinking about my photography style. As a result of my medical experiences, my thoughts swung to a less realistic, darker sense of imagery. I am able to revert to my previous style, but am satisfied with my new outlook.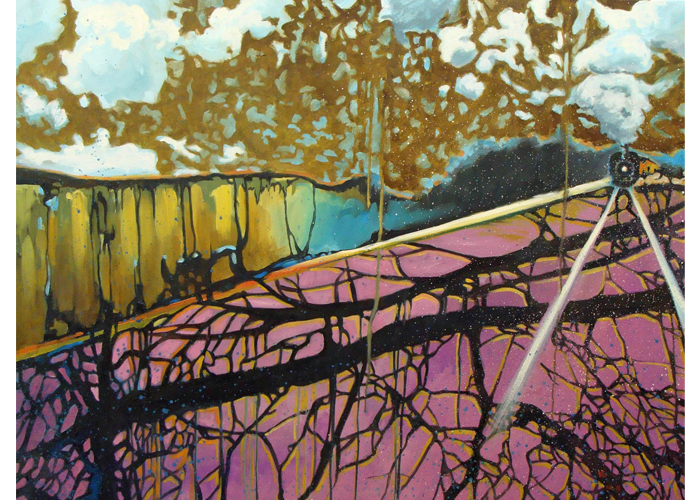 Kate Paul – Night Train | oil on canvas | 40″ x 30″ | $900
This painting represents an incident where I started out chasing one idea and ended up with another. The previous forms are lost to me now, but in trying to solve the chaos of this picture I happened upon the idea of a wedge of branches at sunset, a partial image of train tracks, and a salvaged bit of painting that looked like daytime. A happy accident of day and night seem represented. I see the train as a lumbering changer of landscape and lives.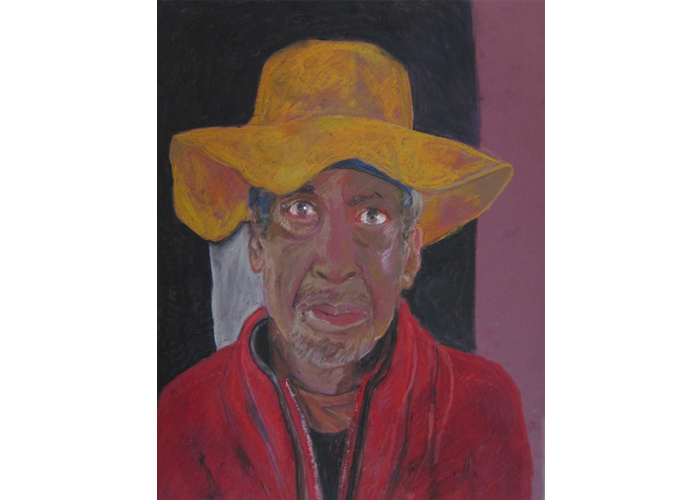 Marcia Polenberg – Homeless Man | oil pastel | 24.5″ x 19.5″ | $900
This man wandered into the Clay Gallery, April, 2014. His expressive face and chaotic persona made a deep impression on me. He was clearly struggling with mental illness. When he saw that I was drawing, he insisted I take his photo and draw him too. I do worry about how this man is surviving the cold of winter and how he fares throughout the year.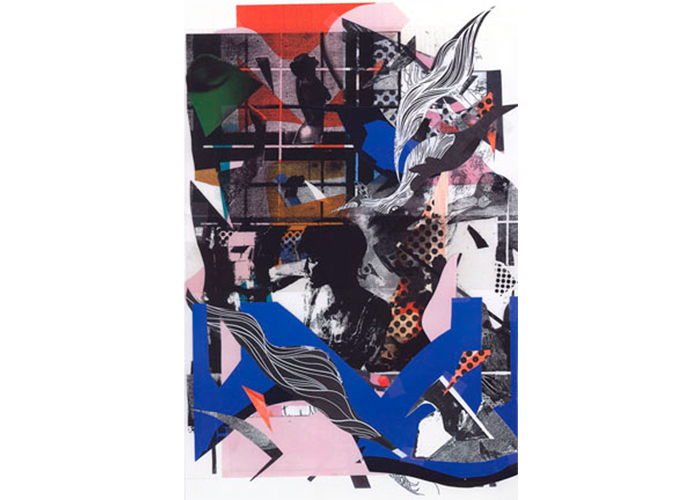 Ted Ramsay – Thinking of You | mixed media collage print | 40″ x 30″ | $900
The two women in this print face the chaos of separation from each other due to physical space, cultural mores and the anguish over the absence of the other partner. The linear movements of line and color planes moving in three-dimensional spacial perspective aesthetically invoke the chaos in a subjective way.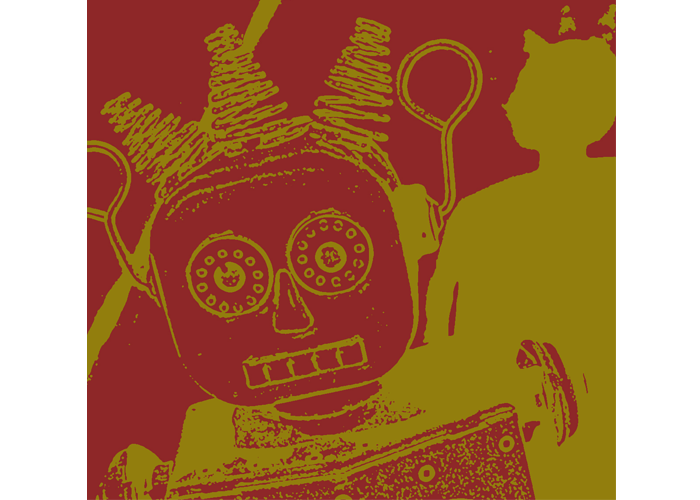 Elaine Reed – Robot Art Girl- Orange (series of three) | manipulated photography | 16″ x 16″ | $450
I work with the Elderberry Club at the University of Michigan; a group of dynamic women diagnosed with early onset Alzheimer's Disease. "Robot Art Girl" is my reaction to the chaos of the disease and the way society treats these vibrant and creative women, as if they are robots without choices. I selected the colors black and white, orange and blue, to represent the stages of emptiness, anger and finally peace.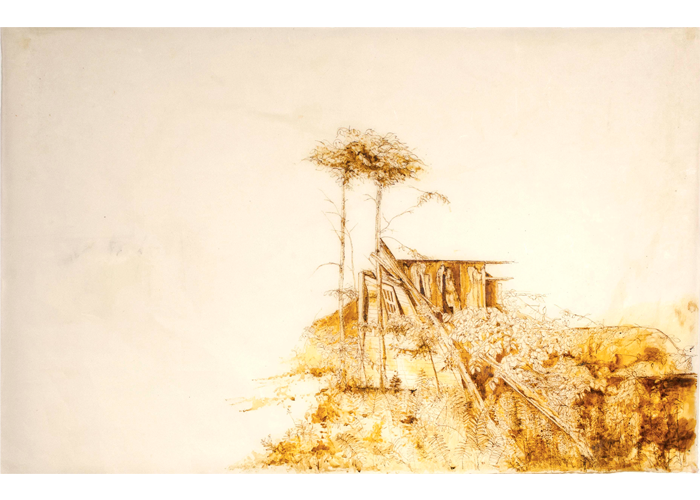 Meagan Shein – Abandoned House IV (Vermont) | paper with beeswax, encaustic and ink | 24″ x 36″ | $900
These are houses in Vermont one year after Hurricane Irene. The evidence left by the chaos of nature disturbed me deeply. Drawing these houses in pen and ink on paper, painted with beeswax and encaustic, I am trying to make fathomable the incomprehensible.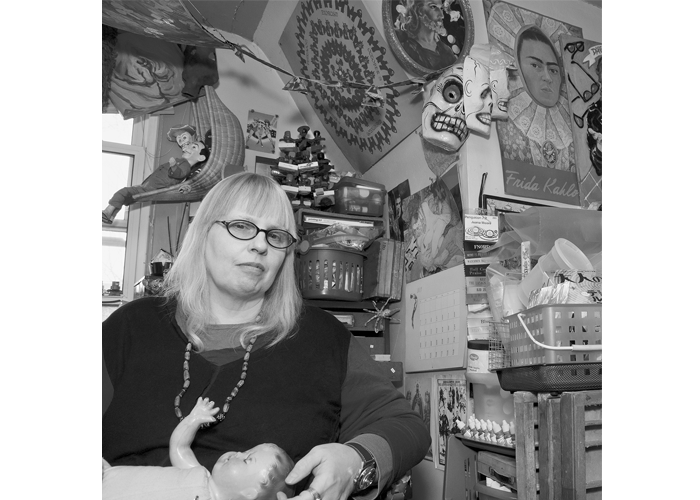 Donita Simpson – Juana Moore | photography | 25″ x 30″ | $750
I received a devastating diagnosis that changed everything for me. Suddenly I saw life in a different light. Photography is my method of observing and understanding people and the world. The camera is my tool of investigation and I use it to record, remember, learn and share. In these portraits I have chosen to honor and celebrate three important individuals. I photograph faces to capture their beauty and to convey an understanding of who they are. These photos distill memory, connection, community and history. Each one is a gift.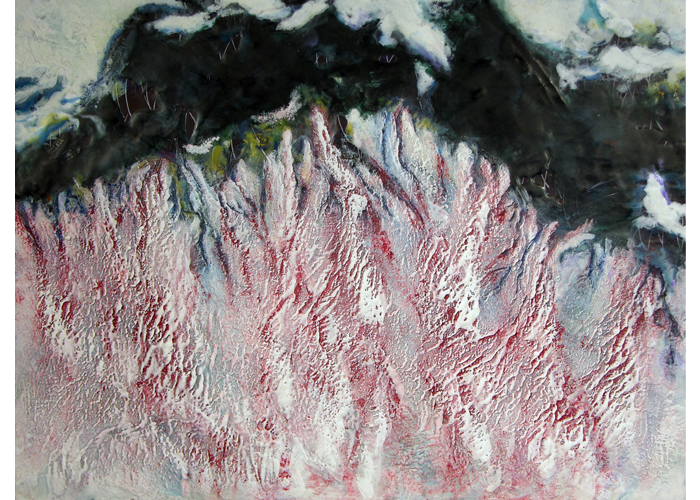 Leslie Sobel – Bleeding Fjord | encaustic | 18″ x 24″ | $1,200
This piece is part of a climate series exploring the impact of climate change on vulnerable, high polar areas. Approaching this series from a dual perspective of emotion and data, I seek to express complex scientific and emotive ideas in encaustic. This process results in a final work that is both durable and fragile, much like the earth.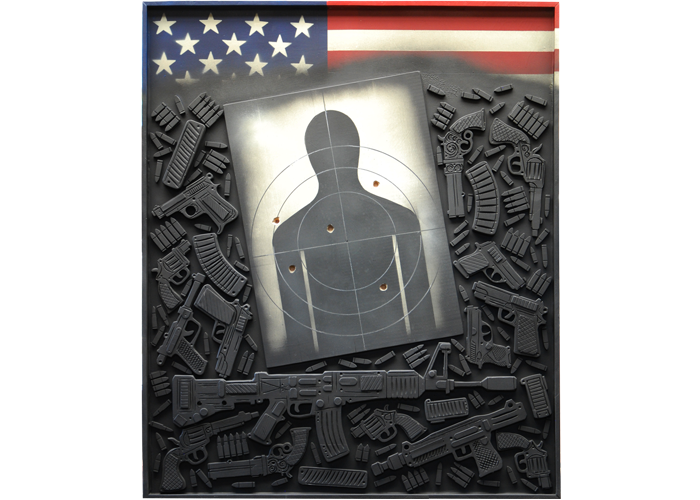 Edward Stopke – America's Gun-Death Culture—30,000 Gun Deaths/Year | oil painting on wood panel with wood cut-out shapes | 41″ x 49″ | $3,400
I hear the many disturbing news reports of America in chaos, spinning out of control, paralyzed, unable to solve obvious problems. As a socially concerned artist, I am compelled to say: It's time to set aside pretty pictures. It's time to get serious. It's time to make strong graphic statements as did the poster artists and painters of Pre-War Poland and Germany.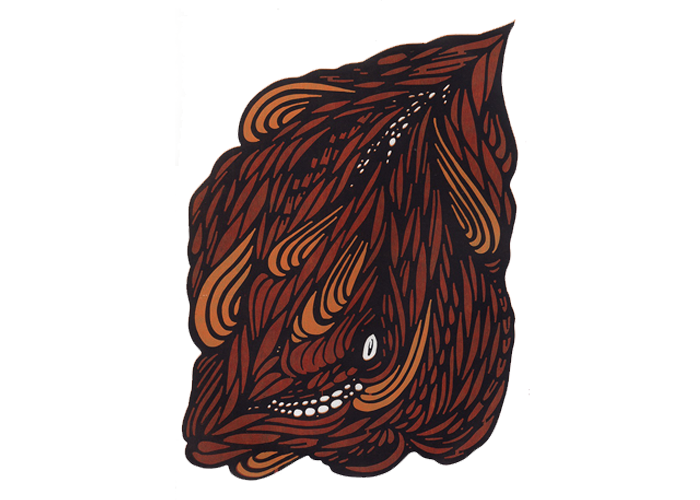 Sonia Tagari – Untitled #4 | CNC block | 24″ x 18″ | $500
An investigation in woodblock cut using a CNC router, this work explores the organic and the machine. Though the sinuous imagery is similar to muscles and tendons, the smoothness of the carving gives it an unfamiliar accuracy and an unnatural precision. In the technological chaos of the modern world, it is still possible to create art using the same machinery that churns out consumer objects.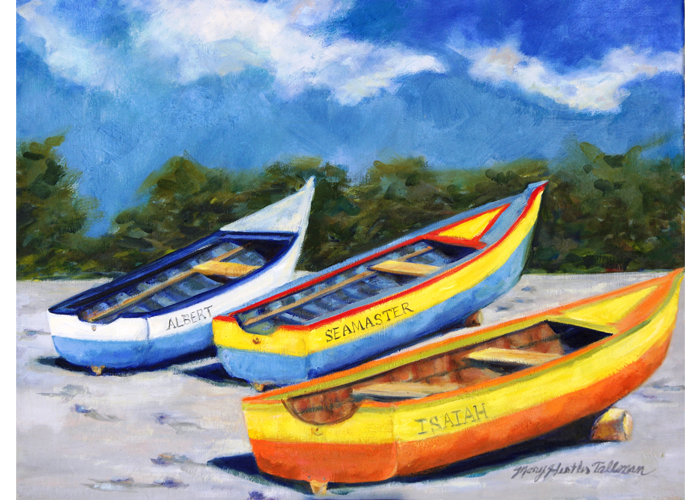 Mary Hertler Tallman – Isaiah | oil on Canvas | 16″ x 20″ | $575
Chaos, disorder and turmoil are conditions we face often. As an artist, I find it is my task to organize, order and bring a sense of system to my work. Through the use of value, composition and subject, I offer the viewer works that appear colorful and represent a kind of idyllic scene in a world that is frought with anarchy.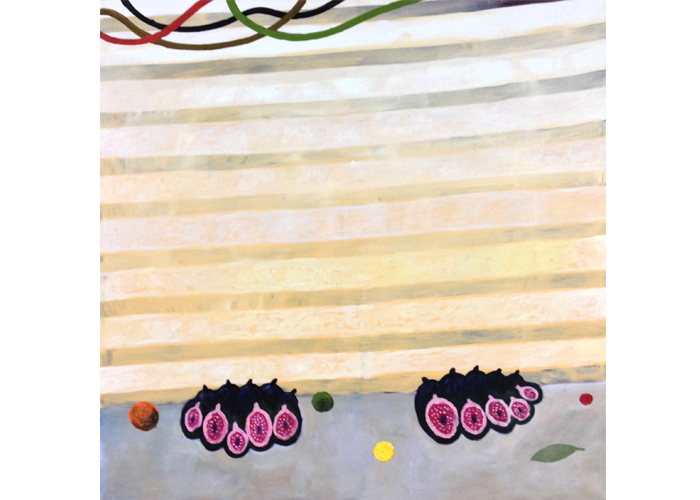 Michael Thoresen – FIGS | oil on canvas | 37″ x 37″ | $1,600
In 2007 I lost a close friend to a rare form of brain cancer. Toward the end, his sister lifted the blanket to show me his toes which had turned black from a lack of blood flow. It was a difficult image to see and it took a long time to come to terms with it. My resolution was to paint a series based on friendship and pain. I have included the wires that kept him alive, the blanket that kept him warm and his toes.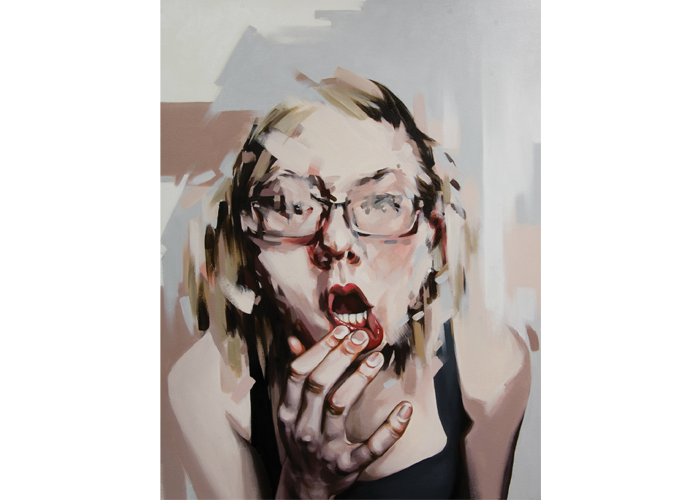 Nicole Trimble – The Big Head | oil on canvas | 36″ x 48″ | $1,250
Central to the creation of these works are my own experiences with anxiety or feelings of cerebral discord or chaos. I choose images that speak to my psychological quirks; I pictorialize a state of dis-settlement or unease. I combine acutely rendered imagery with more impulsive and visceral paint handling. I seek to make visible the spectrum of my sensations at play, ultimately collapsing the spaces between.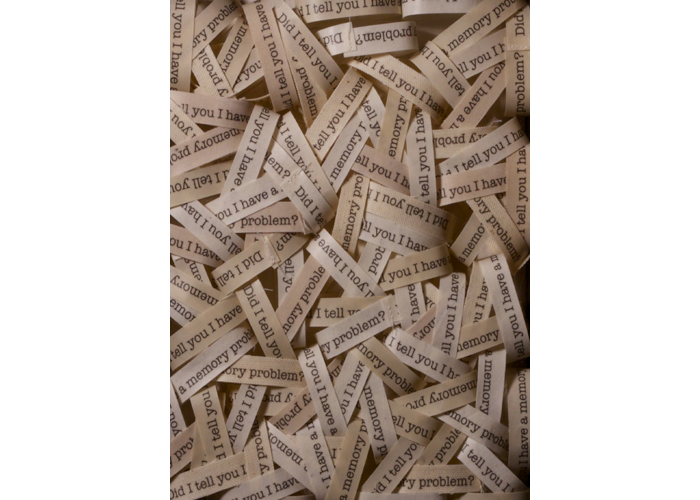 Michele Waalkes – Cross-Section of Irony | Fibers | 10″ x 8″ | $195
After my Dad was diagnosed with Early Onset Alzheimer's, he repeatedly pulled me aside to tell me that he had a memory problem. Clearly, it was important to him that I know. This intimate moment between us was repeated again and again and again. Making this piece offered me a chance to work through the experience, by recreating his words on slips of fabric, repetitively, in a contemplative rhythm of art making.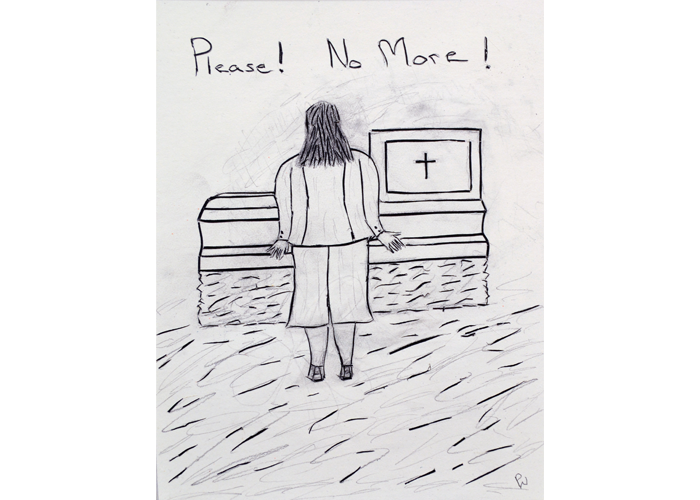 Peter Warburton – Please! No More! | duct tape and pencil on illustration board | 10.5″ x 13.25″ | $200
While driving home from a visitation to pay my respects to a family grieving the loss of a child, I was reminded of how many times I witnessed this same situation. Each visitation had the same dark moment; hugging a mother in front of her child's casket. My work, "Please! No More!" was started and finished that same evening.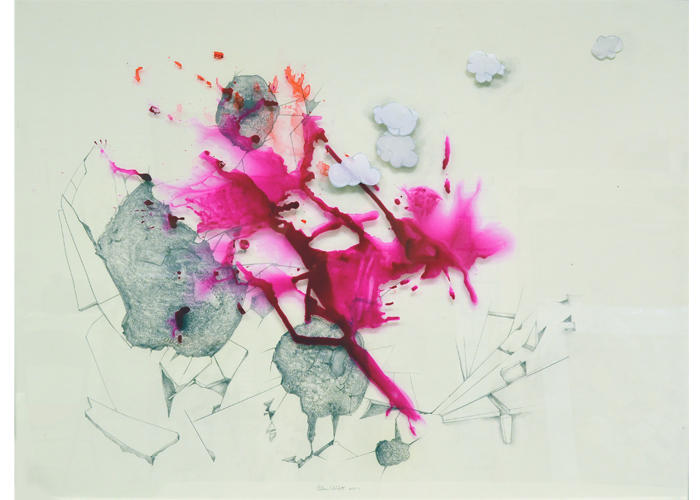 Ellen Wilt – Underneath | graphite, cold press illustration board, water color | 30″ x 40.5″ | NFS
The layering process that went into making this piece represents the chaos of violence. On the glass surface there is a collage of shapes that signify smoke puffs from gunshots, and on the underside there is a splash of red ink to embody blood. Underneath everything is a graphite drawing of a bullet hole in the wall.